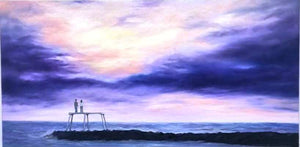 SOLD, unavailable
An oil painting on a deep edge canvas, size 24" x 12" (61 x 31cm)
The edges of the canvas are also painted to correspond with the artwork. It is signed, varnished, has hanging fixings and comes complete with a Certificate of Authentication.
The artwork shows the famous Newbiggin Couple, standing, watching out to sea, on a lovely Northumberland evening.
I have used the pinks and purple shades, which reflect the beauty of the area and the gorgeous bay  in Newbiggin by the Sea.