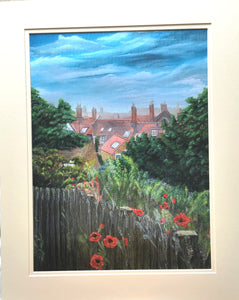 A limited edition digital print, taken from original artwork in acrylic, in a soft cream mount ,size 16" x 20".

Showing the view from the terrace of a charity shop tea room in Alnmouth, Northumberland, on a lovely sunny day.
Overlooking the rooftops of the houses.  The trees are lush and green and grasses grow high. Wild flowers and poppies are in full bloom as they pop their heads through the old rugged fence to say hello.
A beautiful village scene, under a bright summer sky.
Comes with a Certificate of Authentication on the reverse.
As with all prints, do not hang in direct sunlight.