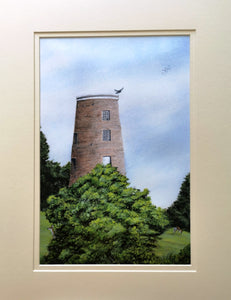 A limited edition, digital print, taken from original art in acrylic, in a soft cream mount, size 12" x 16".

Showing an old windmill near my home village. It stands proudly on the hill top, now without it's sails, with boarded up windows and doors but it is still beautiful and part of our local history.  Locals call it Woodhorn Mill.
It once stood surrounded by fields, now a road runs alongside, but there is still woodland to one side, where deer can often be seen coming out of the trees close by.
Complete with a Certificate of authentication on the reverse.
As with all prints, do not hang in direct sunlight.