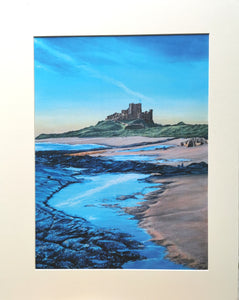 More coming soon, on canvas
A Limited Edition digital print, taken from the original art in acrylic, mounted with a soft cream mount, and complete wit a Certificate of Authentication  on the reverse.
Size 16" x 20"
The original artwork was taken from a photograph by Darren Chapman Photography. It was such a beautiful photograph , that I just had to paint it.
Showing the historic and much loved, Bamburgh Castle in Northumberland. A true beauty spot of the county.
It overlooks one of the many wonderful beaches in the area as the sun sets behind the magnificient castle, casting it's warm glow over the sea, beach and castle.
The wet sand glistens in the sinking sunlight as shadows are cast in the pools on the sand.
Magical!
As with all prints, do not hang in direct sunlight.