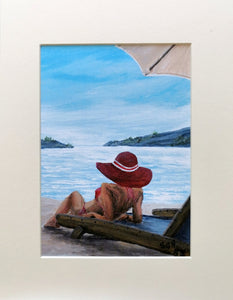 More coming soon
A limited edition print, taken from artwork in acrylic, in a cream mount. Size 8" x 10".
Showing a lovely lady, relaxing on her sun lounger on a beach, taking in the view beyond.
She is enjoying the sun, but is shaded by her hat and the parasol near her bed.
If only!
Complete with a Certificate of Authentication on the reverse.
As with all prints, do not hang in direct sunlight.