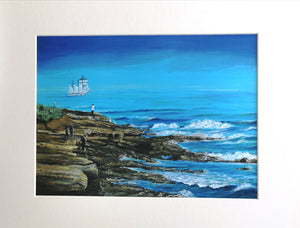 A limited edition digital print, taken from an original artwork in acrylic, in a cream mount, size 16" x 20".
Showing the beautiful "church point" in Newbiggin by the Sea, in Northumberland ,which is a popular visitor spot.
The rugged rocks are jutting out into the water as the waves gently lap against them, with a gentle splash.
A crowd of people have gathered to watch as a Tall Ship sails majestically by, on a lovely, bright, summer afternoon.
Comes with a Certificate of authentication on the reverse.
As with all prints, do not hang in direct sunlight.