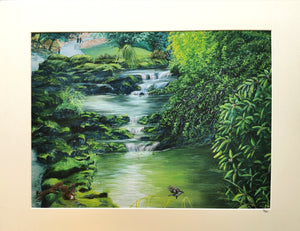 Sale Item.
A limited edition digital print, taken from original artwork in acrylic, unmounted, size 16" x 20".
Showing the beautiful Peasholm Park in Scarborough, one of my favourite places in the world.
A gentle running stream flows into small ponds over trickling waterfalls and rocks, as the sun glistens on the surface. The green foliage thrives in the shade of the towering trees above and all around.
Birds fly from bush to bush enjoying the plants and water.  Little squirrels play and hide, to the amusement of the visitors to the park, who, in turn, feed them with nuts and treats bought from the park café.
People stroll the walkways and paths, leading them into one beautiful grove after another, always something different to see around each curve in the path.
A peaceful painting of a peaceful park.
Comes with a Certificate of Authentication  on the reverse.
As with all digital prints, do not hang in direct sunlight.