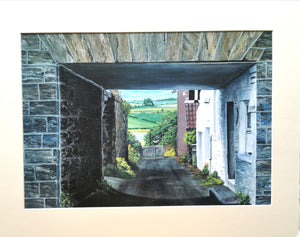 A limited edition, digital print, taken from original artwork in acrylic, in a soft cream mount, size 16" x 20".

Showing the beautiful village of Alnmouth in Northumberland. An alternative view, looking through an old stone built archway between the houses of Northumberland Mews.
Once through the shadow of the arch, your eye is drawn down the road, to the gate at the end, which leads through the trees, to the estuary, where fishing boats sail by, leading up to the beautiful green landscape beyond.
A wonderful view in a delightful village.
Complete with a Certificate of Authentication on the reverse.
As with all digital prints, do not hang in direct sunlight.