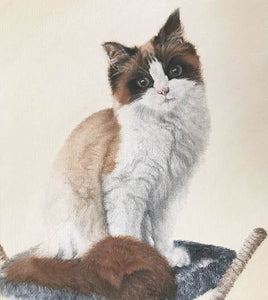 An oil painting on an canvas board, size 10 x 12 inches of a ragdoll cat named Millie.
Painted for a client who had recently invited this little lady to share his home.
Upon receiving the painting he was speechless, and was over the moon with the finished artwork.  He said he " I actually can't believe how amazing it is. I keep looking at it over and over again. Absolutely brilliant"
I love it when people are happy with my artwork, it makes my day.