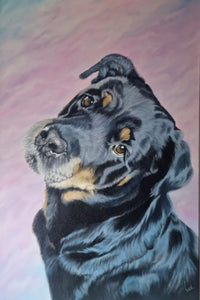 A commission piece of a beautiful rottweiler, painted in oil on canvas.
The client was overjoyed when he saw the painting as unfortunately Keira is no longer with us, but I'm sure she will have pride of place in their home.
It makes me so happy when the client loves their painting. It makes all the hours spent painting it, so worth while.
Beautiful Keira painting
I collected the painting of Keira and I broke down in tears and not just because I miss her but with the accuracy of her detail in the painting. I will recommend The San Gallery to everybody.
Such a talented and pleasant lady to deal with.
Thank you ❤️