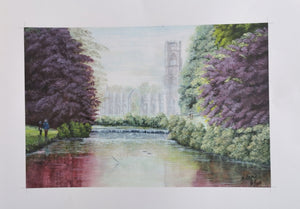 Limited Edition digital Print, in a cream mount, with a Certificate of Authentication on the reverse. Size 16" x 20".
Taken from the original artwork in Acrylic, this was painted from a photograph taken by my parents, many years ago.
Showing the ruins of Fountains Abbey in Yorkshire in the distance, framed with the lovely trees on either side of the tranquil lake, reflecting all the surrounding beauty.
A couple stand on the side of the lake, simply admiring the view, in awe of it's regal magnificence and trying to imagine it, in it's full glory, in days gone by.
As with all prints, do not hang in direct sunlight.