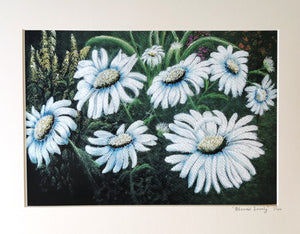 Sale Item.
A limited edition digital print, taken from an original art in pastel, in a soft cream mount, size 16" x 20". (1 available without a mount)

I did this art in my garden in summer, in pastels, of the gorgeous, large white, daisy type flower, as I enjoyed a summer days art. Other flowers and grasses are seen in the background, but the daisies were my main focus, the white, reflecting the light from the sun.
Complete with a Certificate of Authentication on the reverse.
As with all prints, do not hang in direct sunlight.