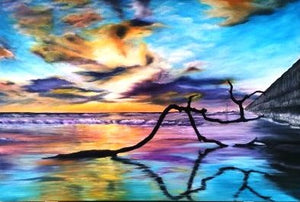 A Limited Edition, Giclee, paper print.
Taken from an original painting showing a colourful interpretation of a sunset over the pier in Berwick, Northumberland.  (Reference photo by Darren Chapman photography).
It has been mounted in a soft cream mount and has a sturdy backing board on which you will find the Certificate of Authenticity.
Size 16 x 12 inches (40.5 x 30.5cm)
This is a carbon neutral print on Hahnemuhle, German etching, heavyweight paper with a strong texture, printed by a Gold Standard company working in line with Greenpeace guidance.