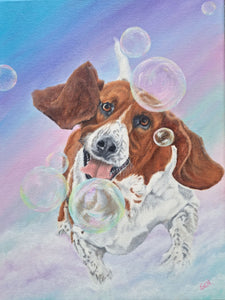 A lovely, colourful, giclee, deep edge, canvas print, showing a Beagle dog, playing with bubbles, and he is so happy, he thinks he is floating on the clouds. 
The size of the canvas is 28 x 20 x 1.5 inches.  There is no need to frame it as the sides are wrapped to match the front, but of course you can add a frame if preferred.
Everyone loves a dog, especially when they are happy, playful and healthy, and this picture definitely has all three included.  The colours of the pinks, blue and purples also give off a happiness vibe and it will definitely make you smile, each time you look at it, as it is displayed in your home or office,  Just look at his beautiful eyes and floppy ears. Isn't he just adorable.?
Complete with a certificate of Authenticity on the reverse.