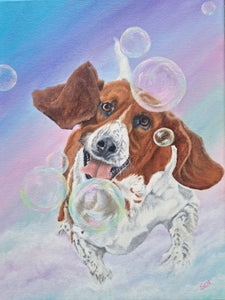 An original oil painting of a Beagle dog, walking on the clouds, playing with bubbles, simply because he's happy.
It has a colourful rainbow background which is reflected in the clouds and the bubbles and he looks so very happy and content.
A lovely painting which will make you smile each time you see it.
The canvas is 20x16" with a depth of 3.5cm. The edges have been painted to match, so no need to frame, unless of course, you would like to.
I painted this picture because I love painting animals as they are so cute and adorable.
Ready to hang in the room of your choice to brighten every day.
Complete with a signed Certificate of Authenticity on the reverse.
Price includes P&P uk