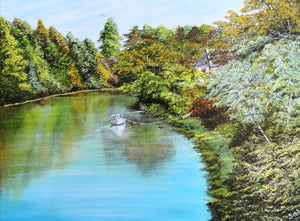 Sale Item.
A limited edition digital print, taken from original art in acrylic, 1, in a soft cream mount, size 16" x 20", 2 available without a mount.
Showing the river Coquet in Warkworth, Northumberland, as Autumn begins and the trees start to change colour.
Little ducks sleep on the banks of the river, whilst other swim in the water near a small boat moored there.  The reflections on the water are like those in a mirror as the river is so tranquil, hardly moving at all.  A lovely little cottage is almost hidden by the trees on the river bank near the boat.
The oranges, golds and yellows  just begin to show on the leaves of the trees as the summer draws to an end and the autumn arrives.
Complete with a Certificate of Authentication on the reverse.
As with all digital prints, do not hang in direct sunlight.