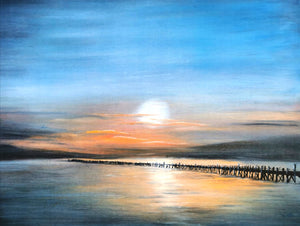 A limited edition, giclee, paper print, taken from original artwork in acrylic, in a soft cream mount, size 16" x 20". or mount free.

Printed on a texture, German paper, carbon free, following Greenpeace guidance, saving the planet.
Showing the lovely harbour of Amble in Northumberland, as the sun sets, glistening on the harbour waters and old groynes, jutting out over the bay.
A very busy place through the day, with people, fishing boats, markets and shops, but in the evening. a peaceful, quiet place with amazing views.
Painted from a photograph by my son Kevin Nicholson.
Comes complete with a Certificate of Authentication on the reverse.